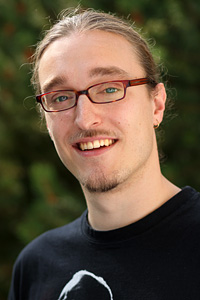 Dr. Peter Treiber
Post:
TU Kaiserslautern
Postfach 3049
67663 Kaiserslautern
Email:
ptreiber [at] rhrk.uni-kl.de
About my research
At the moment, I'm doing my master thesis about the "deriving of topological networks from temporal adjacency data".
For my bachelor thesis, I did a study about human problem solving, with the "Knight's Path Problem" as the main topic.
Education
10/2012 - Present: TU Kaiserslautern, Masters Computer Science
09/2008 - 09 / 2012University Heidelberg, Bachelor Applied Computer Science
Research Interests
Complex problem solving

Graph theroy
Publications:
A Knight's path problem as an example to investigate human problem solving. GI-Edition, Lecture Notes in Informatics. Informatiktage 2014.
---

if (4 <= 1) { ?>
@include("/home/www/htdocs/en/hotnews.en.html"); ?>
} ?>